Share this mythological story about Parshurama
Story on 6th Incarnation of Lord Vishnu
Parshurama (Lord Vishnu's 6th avatar) was born  to sage Jamadagni and Renuka. He is believed to be immortal. He was descended on earth to demolish the evil.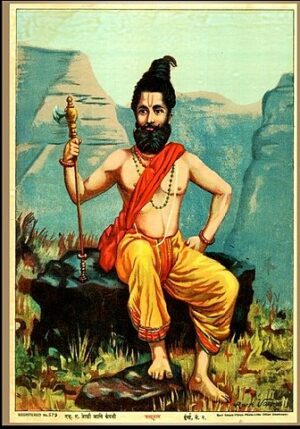 Image credit- Wikipedia
Parshurama was a devotee of Lord Shiva. He received Parshu or an axe-like weapon from Lord Shiva himself as a boon. Lord Vishnu's avatar is said to be ferocious and skilled in battle.
In the beginning of everything, people lived in their own way, fierce and angry. But with time they adapted to nature and learned to live in peace and kindness. Sadly, there were still a few left who continued to live in beastly ways. Lord Vishnu, the almighty God declared, "Whenever life on earth gets beastly, sinful and evil, I'll appear and show them loving, kind and righteous ways of living."  Every time he came down to save the world, we called it an avatara. Every time he took a new form. 
So when the ruling king's on earth started to loose their way and started oppressing common man, Lord Vishnu, the destroyer of evil, took the avatara of a fierce, angry man, Parshuram – his 6th incarnation. He got his name after he got the "Parshu", meaning the "the axe" from Lord Shiva for the severe penance he did.  Lord Parshurama fought only those evil kings and warriors who were swollen with pride and greed. 
Parshurama was also the guru of Bhisma, Dronacharya, the teacher of Pandvas and Kaurvas and Karna, the Kaurvas' friend. Parshurama even met Lord Rama of Ayodhya, the seventh avatar of Lord Vishnu. After meeting Rama, Parshuram realized that his duty of cleansing the earth with sinful kings was over because the other Rama had come to show the world how a king should be. Parshurama gave away always his wealth and land as a gift to a sage. 
Now he had to find a new place for himself. Upon leaving, he shot an arrow inthe ocean and suddenly the ocean receded and a new land was reclaimed from the waters. This land is known as "Konakana" meaning corner piece of earth. It is the entire west coast of India, Maharashtra, Karnataka and Kerala. This entire stretch is called "Parshuram Kshetra". It is said that Lord Parshurama still lives in Mahindragiri mountains. It is also said that he threw his axe into the ocean. There are many different versions of his story as is the case with all mythological stories.