Share this mythological story about Varaha Avatar
Story of 3rd Incarnation of Lord Vishnu
Wild boars are incredible animals, right? They can run fast, are nocturnal, and are amazing swimmers as well. Do you know why are we discussing wild boars? Varaha, wild boars in Sanskrit have been a Hindu deity and are worshipped since ancient times. Varaha Avatara is one of the ten avatars of Lord Vishnu. He took this form to rescue mother earth from the depths of the ocean.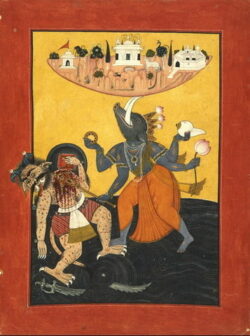 Image credit- Wikipedia
Lord Vishnu's Varaha Avatar was his third incarnation. In the Satya Yug, he adopted the name Varaha, which means "boar" to protect the earth.
Vaikunta was Lord Vishnu's home. Two gatekeepers, Jaya and Vijaya, stood guard at Vaikunta. They adored Lord Vishnu and felt privileged to be his guardians. Several people would come to see Lord Vishnu, and it was Jaya's and Vijaya's duty to make sure that everyone who had a complaint was able to see the Lord. They were well aware that Lord Vishnu's time was valuable.
Lord Brahma's four sons arrived at Lord Vishnu's dwelling, Vaikunth, one day to meet him. The two guards prevented them from entering the gates because Lord Vishnu was sleeping. The sons of Lord Brahma were furious, and they cursed Jaya and Vijaya with being born as humans on earth.When Lord Vishnu arrived at the scene, he apologised for his guards and explained that they were only executing their duties. However, because this Lord Brahma's sons left, the curse cannot be reversed. Then Lord Vishnu approached his guards, saying that the curse would be broken if they both died at his hands in human form. Thus, both the guards were born as Hiranya­kashyap and Hiranyaksha two asura brothers who were born as  Lord Vishnu's enemies due to the curse.
Though Hiranyaksha was an asura he was blessed by Bramha. He went on a rampage and devastated the three worlds. He stole all the wealth from the earth for which it had fallen at the bottom of the ocean. The ocean belt is filled with dirt and mud and the earth had to bring back to its original place.
That's when Lord Vishnu had to take the avatar of Varaha, the wild boar. He jumped into the ocean and split it apart. Disappearing beneath the water, he saw earth at the bottom of the ocean. Varaha burst out from the ocean and ascended upwards.
Hiranyaksha who was watching this rushed towards the lord and tried to stop it but Lord Vishnu gently put the earth to float on the ocean and flew into the sky to fight the asura. All the powers of the asura failed in front of the Lord himself and thus was killed by Varaha.
In his Varaha incarnation, Lord Vishnu punched Hiranyaksha across the face with his hand and flung him into the air. He collided with his head and died instantly.  In this manner, Lord Vishnu in his Varaha avatar killed Hiranyaksha and saved Mother Earth.
Mother Earth was back on its axis. There are many temples across India where Lord Vishnu is worshipped in his Varaha avatar. The most famous temple is in Tirumala Tirupati.
Listen to this episode of Indian mythological story and other god stories on "Indian Epics & Puranas: Mythological Stories For Kids"  available on Chimes Radio App. Download from Google and Apple App stores.