How to Make Beetroot Raita
(You'll also be added to our weekly newsletter list)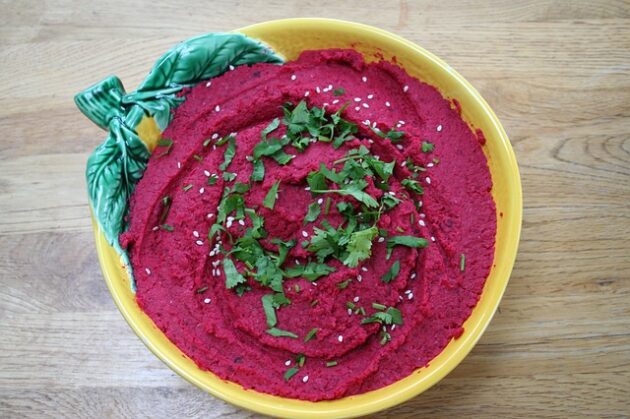 Recipe Name: Beetroot Raita
Preparation Time: 5  mins          
Age of Cooking: 5 years & more    Serves: 2 persons 
(Under strict parental guidance)
2 Cups Curd
4 tsp Boiled Beetroot
1 tsp Cucumber
1/2 small Onion
1/2 tsp Salt
Take some curd in a bowl
Add boiled beetroot to it
Mix it well together
Add the chopped cucumber and onion on top of it
Add salt and stir again
Smart Beetroot Raita tip!
Sprinkle some black salt (kaala Namak) on your beetroot raita to make it more pleasant and tasty  😉
Ideas For Beetroot Raita Recipes
Beetroot Raita is one of the popular cooking without fire recipes for kids. In our blog we mentioned how you can prepare a Beetroot Raita but there are other various kinds. Scroll down to get more ideas on how you can make various types of  Raita.
Cucumber Raita – Cucumber + Mint + Coriander + Curd  
Boondi Raita – Boondi + Mint + Coriander + Curd  
Onion Raita – Onion + Mint + Coriander + Curd  
Fruit Raita – Pineapple + Pomegranate + Mint + Coriander + Curd  
Makhana Raita – Makhana + Mint + Coriander + Curd  
Beetroot raita is a nutritious vegetarian Indian side dish that pairs nicely with roti or rice. On hot summer days, we enjoy it as a salad. It's made with chilled yoghurt, shredded beets, and a pinch of salt and pepper. The tadka on top is not required, although it is strongly encouraged. It's a gluten-free and vegan-friendly dish. complementary dish but also a nutrition booster dose necessary for your children.
You're missing out on some big beet benefits if you don't include beets in your diet. One can't deny that it adds a wonderful colour to any dish. Pink and red are the children's favourite colours. As a result, luring them in with easting beets is simple for us.
This recipe is inspired by the cooking without fire recipes for kids. Make this recipe of cooking without fire today and stay tuned for more fireless cooking recipes for kids.
Disclaimer: If you're lactose intolerant, you can replace regular milk with almond milk, coconut milk, or soy milk. Please recommend a physician if you're allergic to any ingredients used in the recipe.
FAQ's on Beetroot Raita recipes
Benefits of cooking without fire for kids
Are you searching for a new indoor activity for your kids? If you want to keep your kids entertained, then cooking without fire is the way to go. It enables your child to cooperate with others and builds confidence as they try out new recipes, pack their own lunches, bake seasonal sweets, or assist with dinner preparation.
Fireless cooking not only teaches youngsters how to cook, but it also teaches them important life skills. This fosters children's creativity, critical thinking, and problem-solving abilities. Children enhance their knowledge of basic abilities such as measuring, counting, and following instructions by using the cooking without fire technique.
If you like the recipe, share it on: