How to Make Delicious Cheese Nachos?
Make fun delicious cheese nachos with kids!
(You'll also be added to our weekly newsletter list)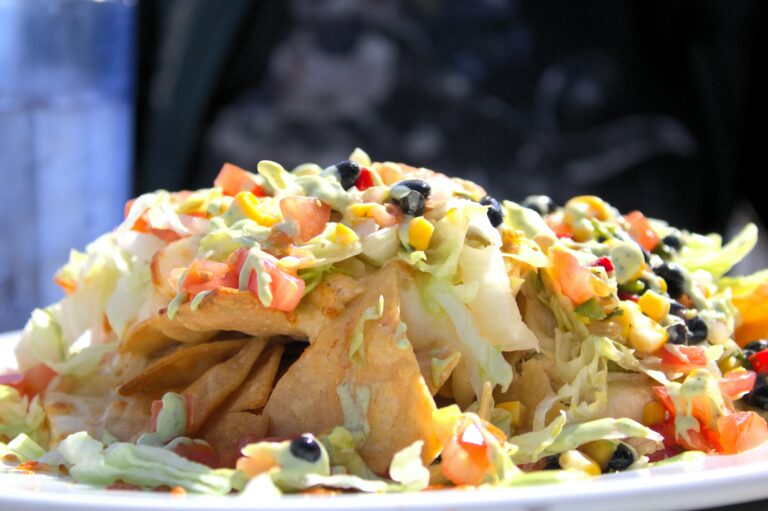 Recipe Name: Cheese Nachos
Preparation Time: 5 -10 mins
Age of Cooking: 5 years & more
Serves Up to: 2 people 
(Under strict parental guidance)
1 packet Nachos
4 tbsp shredded cheese
Half cup ball pepper (yellow & red)
Half cup tomatoes
2 green chilies (optional) 
Half cup onions
1 tbsp oregano
1 tbsp chili flakes
Salt (as per taste)
Take a plate and spread the nachos on it
Spread the bell peppers, tomatoes, green chilies (optional), and onions over the nachos
Sprinkle the oregano, chili flakes, salt, and the shredded cheese over it
Pre-heat the oven for 5 minutes
Put the plate inside the oven and wait for 3 minutes till the cheese melts
Serve your hot cheese nachos
Adding little lemon juice on cheese makes it melt faster 😉
Nachos is one of the popular cooking without fire recipes for kids. In our blog we mentioned how you can prepare a just cheese but there are other various kinds. Scroll down to get more ideas on how you can make nachos.
Mexican Nachos- beans+ melted cheese+ all your favorite toppings
Shrimp Nachos- shrimp+ spicy peppers+ melted cheese+ all your favorite toppings
Irish Nachos- potatoes+ bacon (optional) + melted cheese+ all your favorite toppings
Dessert Nachos- Sweet chips+ strawberries+ melted chocolate+ whipped cream
Breakfast Nachos- nachos+ eggs+ cherry tomatoes+ melted cheese+ all your favorite toppings
Jalapeno Nachos- chips+ jalapenos+ melted cheese+ all your favorite toppings
Nachos is a smoothie you can enjoy as a kid and not feel guilty for it. Made with sizzling ingredients, our snacks  do not only gratify the tongue but also give  minerals that promote growth and development of your child. It is easy to prepare and tastes great!
It  is rich in vitamins and minerals. It helps children grow stronger bones, keep the immune system strong, and stay active all day long.
Nachos are a Mexican food that consists of cooked tortilla chips or totopos coated in melted cheese (or a cheese-based sauce), and are frequently served as a snack or starter.
Disclaimer: If you're lactose intolerant, you can replace skip using cheese. Please recommend a physician if you're allergic to any ingredients used in the recipe.
Benefits of cooking without fire for kids
Are you searching for a new indoor activity for your kids? If you want to keep your kids entertained, then cooking without fire is the way to go. It enables your child to cooperate with others and builds confidence as they try out new recipes, pack their own lunches, bake seasonal sweets, or assist with dinner preparation.
Fireless cooking not only teaches youngsters how to cook, but it also teaches them important life skills. This fosters children's creativity, critical thinking, and problem-solving abilities. Children enhance their knowledge of basic abilities such as measuring, counting, and following instructions by using the cooking without fire technique.
If you like the recipe, share it on: