How to Make Coconut laddoo
(You'll also be added to our weekly newsletter list)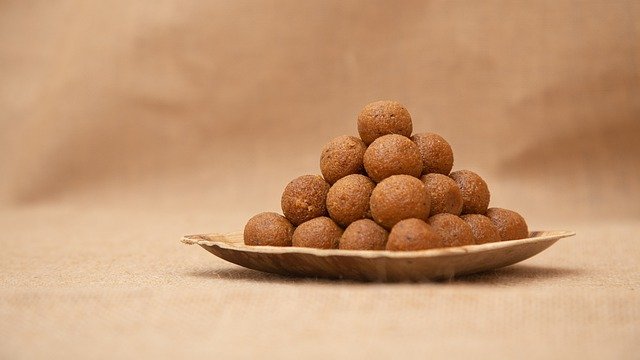 Recipe Name: Coconut Laddoo
Preparation Time: 10  mins          
Age of Cooking: 5 years & more   Serves: 4 persons 
(Under strict parental guidance)
1/2 Cup Dry Petha, grated

2 cup Desiccated Coconut 

1 tsp Gulkand 

1/2 tsp Rose syrup
Mix grated petha and desiccated coconut till you are able to bind it together
Add rose syrup to it and mix well again
Take little dough on your palm. Fill little gulkand and make laddoos
Layer and roll the laddoos with some more desiccated coconut
Smart Coconut laddoo tip!
Coconut ladoo taste best when served cold  😉
Ideas For Cocnut Laddoo Recipes
Coconut Laddoo is one of the popular cooking without fire recipes for kids. In our blog we mentioned how you can prepare a coconut laddoo but there are other various kinds. Scroll down to get more ideas on how you can make a other type of laddoos with the same method.
Cashew Coconut Laddoo – Cashew + Desiccated Coconut + Rose Syrup/Jiggery Syrup  
Sesame Coconut Laddoo – Roasted Sesame Seeds + Desiccated Coconut + Rose Syrup/Jiggery Syrup  
Saffron Coconut Laddoo – Saffron + Desiccated Coconut + Rose Syrup/Jiggery Syrup  
Almond Coconut Laddoo – Almonds + Desiccated Coconut + Rose Syrup/Jiggery Syrup
Cardamom Coconut Laddoo – Cardamon + Desiccated Coconut + Rose Syrup/Jiggery Syrup
The ladoo should be the most likely contender if India needs to choose a national sweet food tomorrow. And it's for some very good reasons. To begin with, it is an omnipresent sweet – by which I do not only mean its undeniable presence in every celebration and occasion, including Diwali, but also the fact that each location in India has its unique variant. Cocnut Laddu is one such variant of this delicacy. This time, your kid can help you prepare this traditional home made sweet on festivals. Coconut laddoos are soft creamy laddoos that can certainly make your festival platter look more delicious. Apart from flavour, Manganese is particularly abundant in coconuts, and it is necessary for bone health as well as the metabolism of carbohydrates, proteins, and cholesterol. Needless to say how beneficial these laddoos are for your children. 
This recipe is inspired by the cooking without fire recipes for kids. Make this recipe of cooking without fire today and stay tuned for more fireless cooking recipes for kids.
Disclaimer: If you have any known allergies to any of the ingredients used, please avoid it or consult a physician.
FAQ's on Coconut Laddoo recipes
The coconut laddoos recipe suggested on this page does not necessarily requires jaggery syrup. Rather, Rose syrup is enough to make the dough. However, jaggery syrup can be a good substitute for rose syrup. 
You can use freshly grated coconut instead of desiccated coconut, however, it is preferable that you wait till the freshly grated coconut dries a little.  
Coconuts are considered to be good for weight loss. It also helps to maintain healthy cholesterol and blood sugar levels. Further, It has already been discussed that coconut laddoos are source of many vitamins, minerals and proteins. 
Benefits of cooking without fire for kids
Are you searching for a new indoor activity for your kids? If you want to keep your kids entertained, then cooking without fire is the way to go. It enables your child to cooperate with others and builds confidence as they try out new recipes, pack their own lunches, bake seasonal sweets, or assist with dinner preparation.
Fireless cooking not only teaches youngsters how to cook, but it also teaches them important life skills. This fosters children's creativity, critical thinking, and problem-solving abilities. Children enhance their knowledge of basic abilities such as measuring, counting, and following instructions by using the cooking without fire technique.
If you like the recipe, share it on: