Complete List of
PAdma Shri Awards 2021
This page showcases complete list of Padma Shri Awards recipients 2021 along with few noteworthy mentions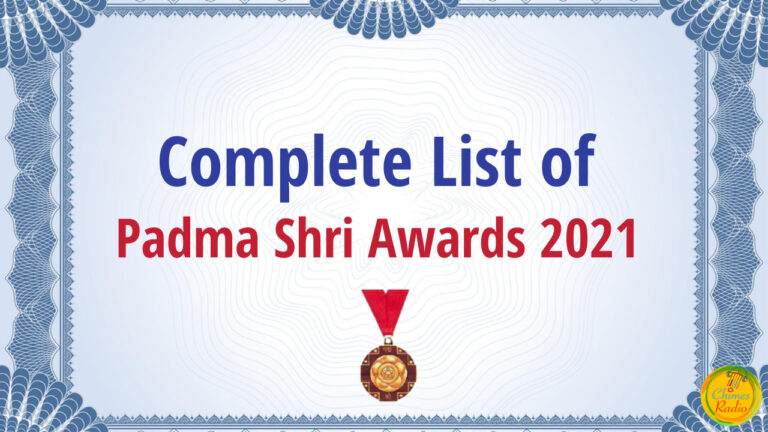 Padma Awards were instituted in 1954 to be awarded to citizens of India in recognition of their distinguished contribution in various spheres of activity including arts, education, industry, literature, science, sports, medicine, social service, and public affairs. It has also been awarded to some distinguished individuals who were not citizens of India but did contribute in various ways to India.
Padma Shri, also spelled Padma Shree, is the fourth-highest civilian award of the Republic of India, after the Bharat Ratna, the Padma Vibhushan and the Padma Bhushan. 
Being a highly reputed Civillian Award, Padma Shri Award has always been charming, but this year, there is something different. It appears that Padma Shree has truly become a civilian award as you could have seen 4 recipients walking barefoot up to the stage and one brave transgender garnering lavish showers of praise and admiration. 
Padma Vibhushan- Awarded for exceptional and distinguished service.
Padma Bhushan- Awarded for distinguished service of a high order.
Padma Shri- Awarded for distinguished service in any field.
List of Padma Shri Awards 2021 Recipients
Out of 102 Padma Shri awards this year, listed below are 4 unique Padma Shri awards 2021 recipients who walked barefoot to the stage and 1 transgender who garnered all the praises. Check the complete list of Padma Award winners below.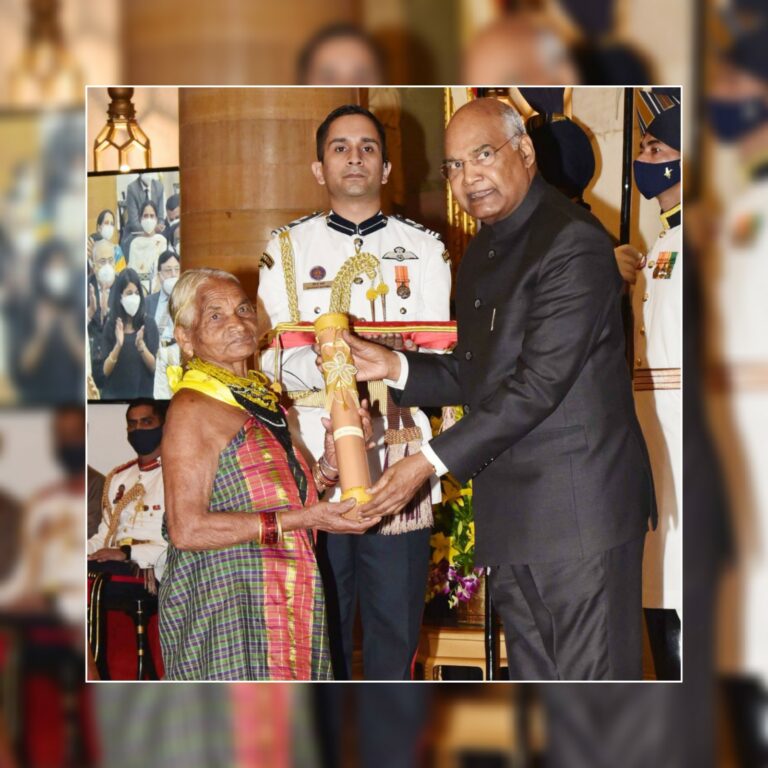 When most of us were busy writing essays and compositions on Conservation of environment in an air conditioned room, the daughter of Mother Nature had planted 30,000 saplings. Yes, we are talking about Tulsi Gowda, a real life forest fairy who has achieved this wonderful milestone.
Tulsi Gowda was born in tribal family within the Honnalli village, Karnataka. Tulsi was born into a poor family and unfortunately her father died when she was 2 only. This made her work along with her mother as a daily laborer. As a result, she never got a chance to acquire formal education. But, as they say the best university is the University of Life. Her knowledge of Botany may outshine even the graduates like me and you. She has been lovingly called as "encyclopedia of the forest" and "tree goddess". Tulsi is estimated to have planted in the range of one lakh trees in Karnataka on her own. Presently, she is the right arm of Karnataka Forest Department. She was honored with Padma Shri, the fourth highest civilian award of India, on 8 November 2021.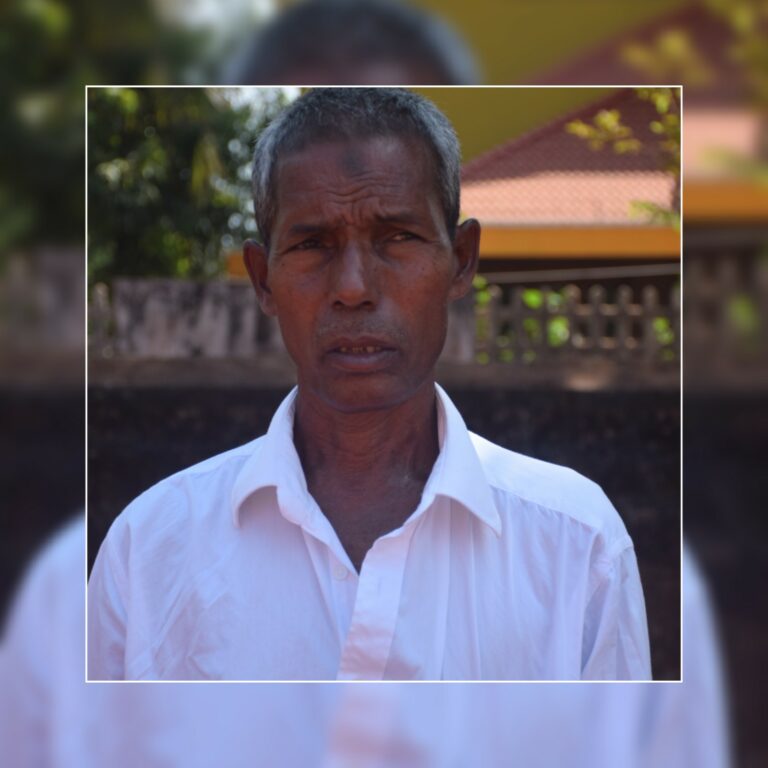 Once upon a time, there lived a boy in a village. Born into a family which lacked financial resources, the boy had to quit his formal education at early age in an order to contribute to his family expanses. Few years passed. The boy was a full grown man now and used to sell oranges. One day, a foreigner came to the man and asked the price of oranges. Unable to understand English, the man could not answer the foreigner and felt embarrassed. That day he vowed to make a school in his village, which lacked of school. He kept part of his savings from selling oranges, to start a school in his village. And Lo! The man was able to start his own school. Our determination decides whether we are able to succeed.
And how about if I tell you that this is not an imaginative moral story to teach kids rather a real life account of Harekala Hajabba?
Harekala Hajabba is an Indian social worker and orange vendor living and working in the city of Mangaluru, Karnataka, India. He saved money from his business to build a school in his village. In 2021, he was awarded the Padma Shri, India's fourth-highest civilian award, for his initiative and achievement.
 He is affectionately known as 'Akshara Santa' (letter-saint). He is known for the extraordinary contribution he made, despite his own relatively constrained circumstances, to the cause of education in his native village.Hajabba's next dream is to build a Pre-University college in his village.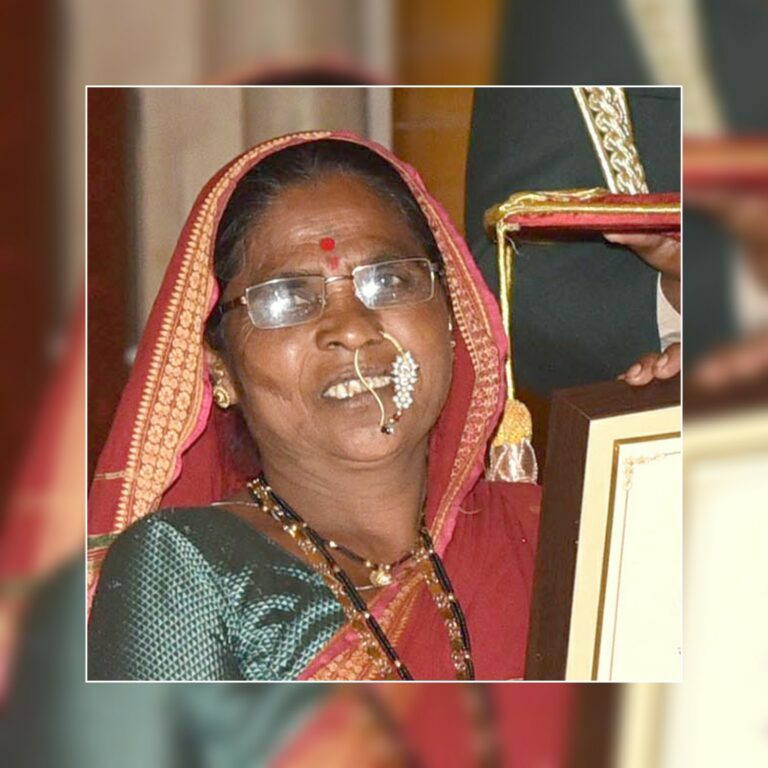 Meet Seed mother. Due to her family's poverty, Rahibai Soma Popere was unable to attend school and began working as agricultural laborer to support her family's income.  Without attending school, she learned about agro biodiversity, wild food resources and traditional culture.
She took responsibility to teach farmers and students about crop choices, soil fertility and pest management. In 2021, she was awarded the Padma Shri.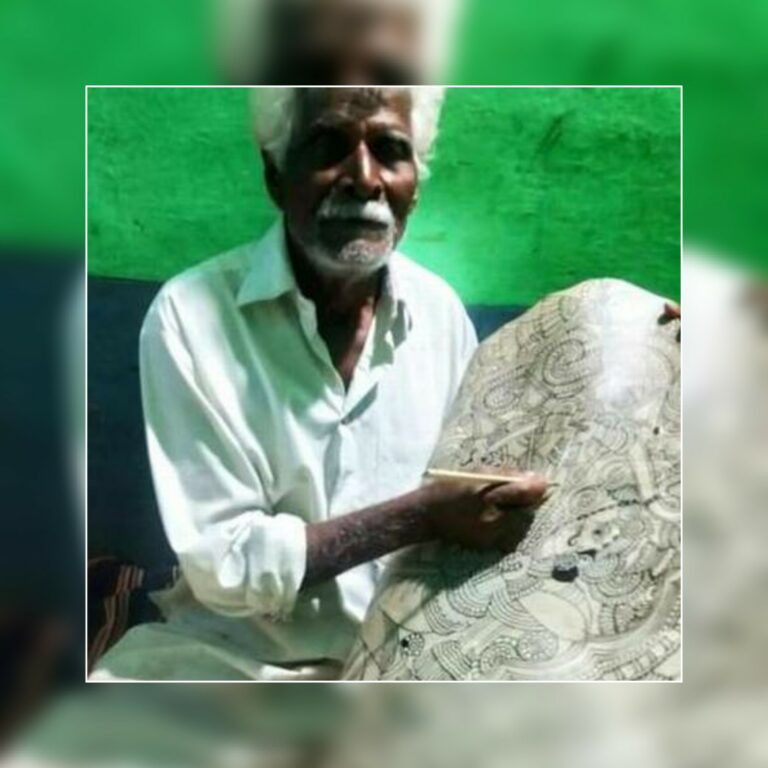 Shri. Dalavai Chalapathi Rao was born in 1936, into the family of traditional leather puppet- makers in Nimmalakunta, Anantapur district of Andhra Pradesh.  Shri. DalavaiChalapathi Rao was initiated into the art of leather puppet making at the young age of 13 years by his father the late Shri. Khade Rao.
For the last 40 years he has been making leather puppets for shows with mainly mythological themes. He has also undergone a formal training in this craft. Shri. DalavaiChalapathi Rao not only encouraged the youth in the craft but also imparted proper training to them so that they can reach new heights in the crafts and also earn encouraging remuneration for their art. He also trained and assisted them to get national awards. In 2021, he was awarded the Padma Shri.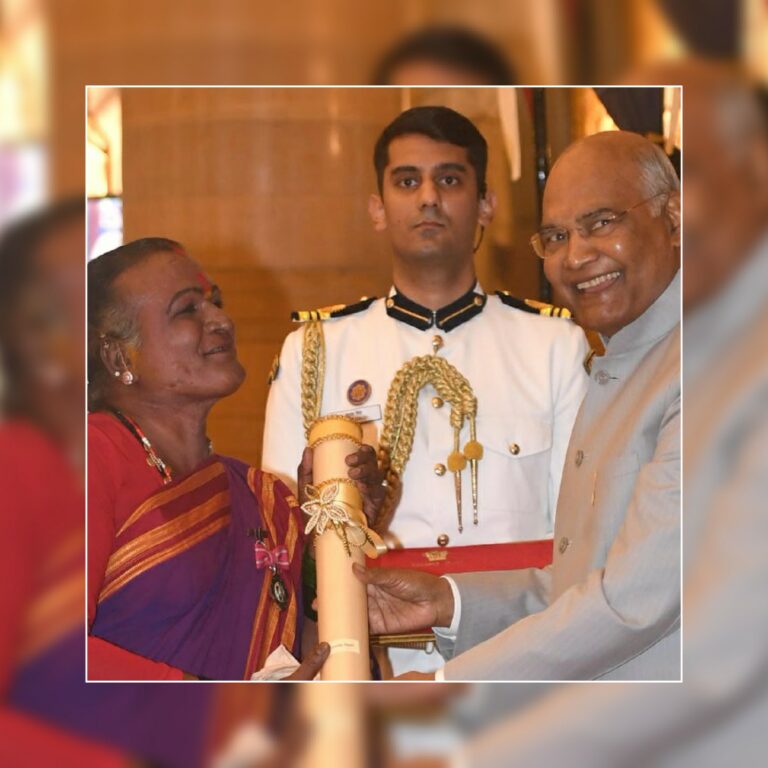 We must have seen them peculiarly clapping and asking for money in trains, buses and traffic signals.  We might have castigated them and tried to avoid them. We might have mocked our enemies by calling them third gender person. The list continues ad infinitum. Transgender persons have long struggled to thrive in society due to the lack of acknowledgement and acceptance from us.
However, this landscape has started changing. Manjamma Jogati is the first trans-president of the Karnataka Janapada Academy, the state government's top institution for folk art forms. For Manjamma Jogati, now in her early 60s, the Padma honours comes after decades of social and financial struggle.
Complete List of Padma Shri Awardees 2021
Padma Shri Awards 2021

No.

Name

Field

1.

Gulfam Ahmed

Art

2.

P. Anitha

Sports

3.

Rama Swamy Annavarapu

Art

4.

Subbu Arumugam

Art

5.

Prakasarao Asavadi

Literature and Education

6.

Bhuri Bai

Art

7.

Radhe Shyam Barle

Art

8.

Dharma Narayan Barma

Literature and Education

9.

Lakhimi Baruah

Social Work

10.

Biren Kumar Basak

Art

11.

Rajni Bector

Trade and Industry

12.

Peter Brook

Art

13.

Sangkhumi Bualchhuak

Social Work

14.

Gopiram Bargayn Burabhakat

Art

15.

Bijoya Chakravarty

Public Affairs

16.

Sujit  Chattopadhyay

Literature and Education

17.

Jagdish Chaudhary (Posthumous)

Social Work

18.

Tsultrim Chonjor

Social Work

19.

Mouma Das

Sports

20.

Srikant Datar

Literature and Education

21.

Narayan Debnath

Art

22.

Chutni Devi

Social Work

23.

Dulari Devi

Art

24.

Radhe Devi

Art

25.

Shanti Devi

Social Work

26.

Wayan Dibia

Art

27.

Dadudan Gadhavi

Literature and Education

28.

Parshuram Atmaram Gangavane

Art

29.

Jai Bhagwan Goyal

Literature and Education

30.

Jagdish Chandra Halder

Literature and Education

31.

Mangal Singh Hazowary

Literature and Education

32.

Anshu Jamsenpa

Sports

33.

Purnamasi Jani

Art

34.

Matha B. Manjamma Jogati

Art

35.

Damodaran Kaithapram

Art

36.

Namdeo C. Kamble

Literature and Education

37.

Maheshbhai and Nareshbhai Kanodia (Duo) (Posthumous)

Art

38.

Rajat Kumar Kar

Literature and Education

39.

Rangasami Lakshminarayana Kashyap

Literature and Education

40.

Prakash Kaur

Social Work

41.

Nicholas Kazanas

Literature and Education

42.

K. Kesavasamy

Art

43.

Ghulam Rasool Khan

Art

44.

Lakha Khan

Art

45.

Sanjida Khatun

Art

46.

Vinayak Vishnu Khedekar

Art

47.

Niru Kumar

Social Work

48.

Lajwanti

Art

49.

Rattan Lal

Science and Engineering

50.

Ali Manikfan

Others- Grassroots Innovation

51.

Ramachandra Manjhi

Art

52.

Dulal Manki

Art

53.

Nanadro B Marak

Others- Agriculture

54.

Rewben Mashangva

Art

55.

Chandrakant Mehta

Literature and Education

56.

Rattan Lal Mittal

Medicine

57.

Madhavan Nambiar

Sports

58.

Shyam Sundar Paliwal

Social Work

59.

Dr. Chandrakant Sambhaji

Medicine

60.

Dr. J. N. Pande (Posthumous)

Medicine

61.

Solomon Pappaiah

Literature and Education- Journalism

62.

Pappammal

Others- Agriculture

63.

Krishna Mohan Pathi

 Medicine

64.

Jaswantiben Jamnadas Popat

Trade and Industry

65.

Girish Prabhune

Social Work

66.

Nanda Prusty

Literature and Education

67.

K. K. Ramachandra Pulavar

Art

68.

Balan Putheri

Literature and Education

69.

Birubala Rabha

Social Work

70.

Kanaka Raju

Art

71.

Bombay Jayashri Ramnath

Art

72.

Satyaram Reang

Art

73.

Dhananjay Diwakar

Medicine

74.

Ashok Kumar Sahu

Medicine

75.

Dr. Bhupendra Kumar Singh Sanjay

Medicine

76.

Sindhutai Sapkal

Social Work

77.

Chaman Lal Sapru (Posthumous)

Literature and Education

78.

Roman Sarmah

Literature and Education- Journalism

79.

Imran Shah

Literature and Education

80.

Prem Chandra Sharma

Others- Agriculture

81.

Arjun Singh Shekhawat

Literature and Education

82.

Ram Yatna Shukla

Literature and Education

83.

Jitender Singh Shunty

Social Work

84.

Kartar Paras Ram Singh

Art

85.

Kartar Singh

Art

86.

Dilip Kumar Singh

Medicine

87.

Chandra Shekhar Singh

Others- Agriculture

88.

Sudha Hari Narayan Singh

Sports

89.

Virender Singh

Sports

90.

Mridula Sinha (Posthumous)

Literature and Education

91.

K. C. Sivasankar (Posthumous)

Art

92.

Guru Maa Kamali Soren

Social Work

93.

Marachi Subburaman

Social Work

94.

P. Subramanian (Posthumous)

Trade and Industry

95.

Nidumolu Sumathi

Art

96.

Kapil Tiwari

Literature and Education

97.

Father Valles (Posthumous)

Literature and Education

98.

Dr. Thiruvengadam Veeraraghavan (Posthumous)

Medicine

99.

Sridhar Vembu

Trade and Industry

100.

K. Y. Venkatesh

Sports

101.

Usha Yadav

Literature and Education

102.

Col. Quazi Sajjad Ali Zahir

Public Affairs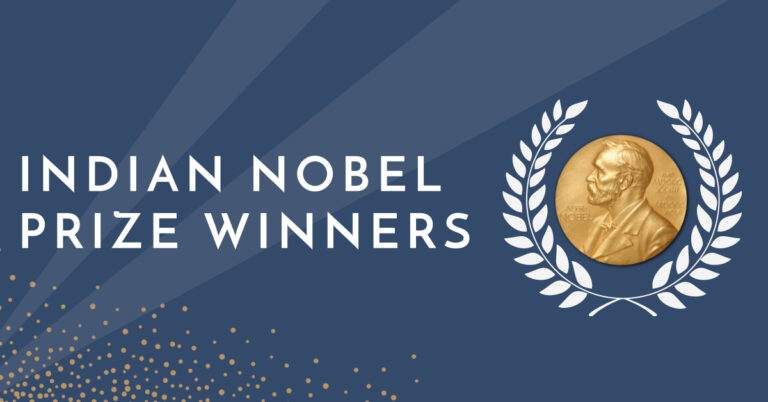 Reliable information about all the Indian Nobel Prize winners. Know about their contributions.
Read More »
FAQ'S about Padma Shri Awards