How to Make Pinwheel Sandwiches
Make Pinwheel Sandwiches!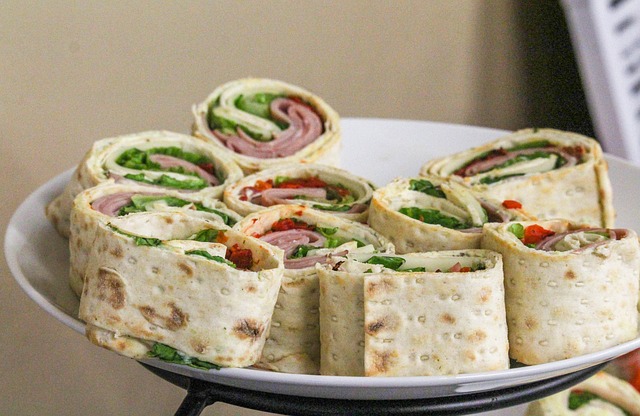 Recipe Name: Pinwheel Sandwiches
Preparation Time: 10  mins          
Age of Cooking: 5 years & more 
Serves Up to: 4 persons 
(Under strict parental guidance)
3 slice bread (white or brown)
3 tsp butter
¼ cup eggless mayonnaise
1 tsp green chutney
3 slice cheese
½ cup capsicum
½ tsp pepper
1 pinch of salt
Take 3 bread slices and trim the sides
Flatten the bread slices
Seal 3 bread slices together using butter
Prepare a sauce by taking ¼ cup eggless mayonnaise and 1 tsp green chutney
Spread the sauce over the bread.
Top it with ½ capsicum, cheese, and pepper powder
Add a pinch of salt.
Roll tight making sure all the layers are intact.
Wrap tightly
Refrigerate for 30 minutes and it's done
Smart Pinwheel Sandwiches tip!
Tomato Sauce makes sandwiches taste better   😉
Ideas For Pinwheel Sandwiches Recipes
Pinwheel Sandwiches are one of the popular cooking without fire recipes for kids. In our blog we mentioned how you can prepare a pinwheel sandwich but there are other various kinds. Scroll down to get more ideas on how you can make a pinwheel sandwiches.
Chapatti Pinwheels – Butter + Mayonnaise + Cheese + Vegetables + Chapatti
Egg Pinwheels – Butter + Mayonnaise + Cheese + Eggs + Bread
Rainbow Pinwheels – Butter + Mayonnaise + Cheese + Different Colored Vegetables + Bread
Pickle Dipped Pinwheels – Butter+ Pickles +Vegetables + Bread
About Pinwheel Sandwiches
Pinwheel Sandwiches are  unique home made food item. Stuffed with vegetables carrying high nutritional value, their pinwheel like shape also looks appealing to children. Bringing to barbeques and potlucks, or as a nutritious snack They're created with ham or turkey, bacon, sliced cheese, tomatoes, lettuce, and a cream cheese-ranch-mayo mixture packed inside bread. With these flexible tiny pinwheel sandwiches, you can delve into a world of flavour. You can stuff them with everything from savoury BLT fillings to spicy taco fixings and tuna salad! They stick together thanks to the tangy cream cheese, making them as photogenic as they are delicious.
This recipe is inspired by the cooking without fire recipes for kids. Make this recipe of cooking without fire today and stay tuned for more fireless cooking recipes for kids.
Disclaimer: If you have any known allergies to any of the ingredients used, please avoid it or consult a physician.
FAQ's on Pinwheel Sandwiches recipes
Benefits of cooking without fire for kids
Are you searching for a new indoor activity for your kids? If you want to keep your kids entertained, then cooking without fire is the way to go. It enables your child to cooperate with others and builds confidence as they try out new recipes, pack their own lunches, bake seasonal sweets, or assist with dinner preparation.
Fireless cooking not only teaches youngsters how to cook, but it also teaches them important life skills. This fosters children's creativity, critical thinking, and problem-solving abilities. Children enhance their knowledge of basic abilities such as measuring, counting, and following instructions by using the cooking without fire technique.
If you like the recipe, share it on: