Kittu Aur Chittu: Funny Jokes In Hindi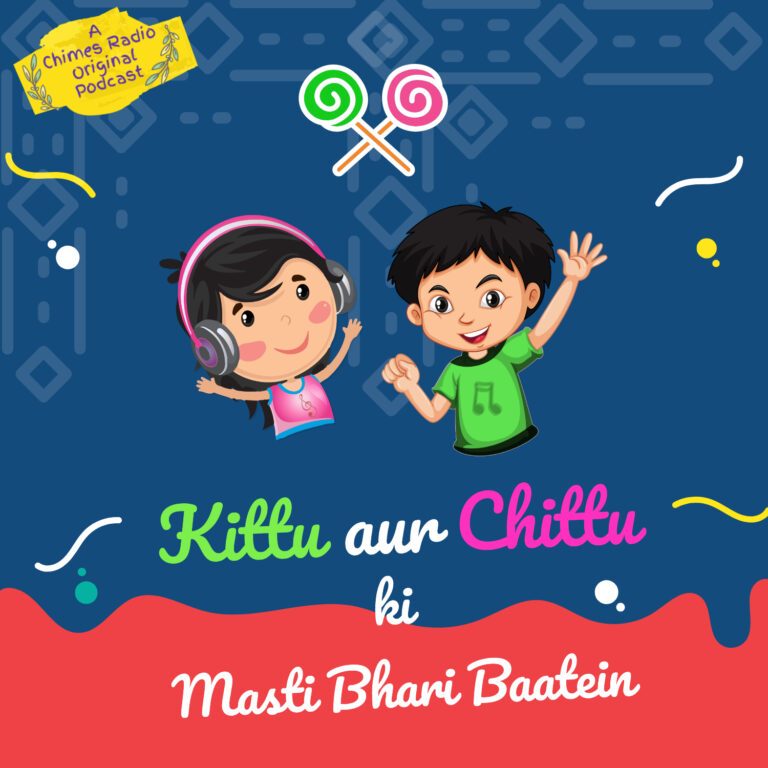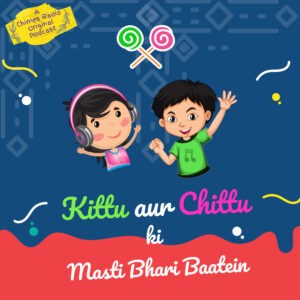 Kittu Chittu is a fun Hindi jokes podcast for kids. Listen to our two loveable kids Kittu and Chittu, indulging in some regular day to day conversations with each other that are filled with fun/humor and some crazy logic. Representing a carefree attitude, in these Hindi chutkule, both the kids love to test each other's knowledge on certain subjects. Often they get drawn into some whacky arguments that are filled with true innocence from deep in their hearts that is unique to kids of this age group.
So join us in his fun ride of "majedar chutkule" along with your family and let us take the parents (along with the kids) back to their childhood days. And may be, just may be, it will mind remind a Kittu of their best friend Chittu from yesteryears that they have now lost touch with. 
These Hindi jokes for kids are perfectly safe to be enjoyed with the entire family or for sharing it with your near and dear ones. So tune into this funny jokes in Hindi podcast – Kittu Aur Chittu Ki Masti Bhari Baatein. 
Kittu Aur Chittu: Best Funny Jokes In Hindi
| | | |
| --- | --- | --- |
| Serial No. | Episode Title | Episode Description |
| 1 | Beautiful Tragedy | Kittu and Chittu, the two fun loving kids, continue their chats and learn about Kittu's reason for missing school.  |
| 2 | Apple | Friendly banter between Kittu and Chittu continues as they discuss what would have happened if apple had fallen on them instead of Newton. |
| 3 | Household Chores | Kids jokes between Kittu and Chittu continues as they discuss how they deal with household chores request from their parents. |
| 4 | Police | Cute discussions between Kittu and Chittu continues as they discuss what they will do if thieves end up breaking into their house. |
| 5 | Mummy Ki Umar | Kittu and Chittu discusses the age of Kittu's mummy and Chittu is taken aback on hearing Kittu's reply. |
| 6 | Gir Gaya Tha | Chittu explains to Kittu why he was not able to join for play yesterday. |
| 7 | Bhagwan | Kids joke between Kittu and Chittu take another funny turn as Chittu is confused by the way people greets him everywhere. |
| 8 | Suraj | Kiddish discussions continue as they come up with an approach to look for sun if its dark outside. |
| 9 | Dahi | Kittu and Chittu hilariously discuss what is 'Dahi' called in English. |
| 10 | 8 Ka Half | Kittu and Chittu comes up with a new way to divide 8 into half. |
| 11 | Head down | Chittu is feeling sleepy in the class and Kittu is worried what will happen if the teacher comes. |
| 12 | Future Tense | Kittu and Chittu discusses what should be the future tense if it starts to rain? |
| 13 | Mann Khatta | Kittu aur Chittu, the two loveable kids, continue as they discuss how to recover if one's mood gets spoiled. |
| 14 | Lamp Jala Do | Kittu requests Chittu to turn the lamp on and is surprised by his answer. |
| 15 | Mother Tongue | Enjoy the fun chat while kids discuss why we call language as Mother Tongue? |
| 16 | Homework | Chittu is puzzled why Kittu ate her homework in this laugh riot. |
| 17 | Hotel Ka Khana | Fun banter continues as Chittu complains about stomach ache and his plan to follow Doctor's advise. |
| 18 | Pooja Ke Phool | The perfect byte size jokes for kids. Friendly banter between two loveable kids continues as Kittu brings the flower pot from the garden and Chittu is confused why she did that.  |
| 19 | 15 Fruits Ke Naam | Fun jokes continue as Chittu wants to test Kittu's GK and ask her to name 15 fruits. |
| 20 | Exam Main Absent | Poor Chittu is depressed with his performance in the exam and Kittu asks him why? |
| 21 | Petrol Ke Prices | Kittu is worried about rising petrol prices but Chittu explains it to her that its not a cause of concern. |
| 22 | Cold Se Fayda | Kids jokes continue as Kittu and Chittu discusses how cold can bring Kittu some benefits. |
| 23 | The Brave Kittu | When a thief breaks into Kittu's house, she shows exemplary courage. But what is the secret reason she decided to not let the theif get away? |
| 24 | The Moon Mission | Kittu is intrigued. Chittu was sent to the moon by NASA but he didnt reach there. Would you like to find out why? |
| 25 | Saari Class Pass Ho Gai | Kittu is elated that their entire class has passed the annual exam but Chittu is sad. Let's find out why? |
| 26 | Padhai Kaisi Chal Rahi Hai | Kittu is curios how are Chittu's studies going on and as usual, he has a very witty answer for it. |
| 27 | Apas Main Baat | Kittu is in a bad mood as she got an earful from her father and Chittu is curious to know what happened? Are you too? |
| 28 | Sabji main namak | Kittu feels Chittu's food is low on salt today and is concerned why is that. Chittu shows his best moral values in his answer. |
| 29 | Exam Main Marks | Kittu is looking forward to the exams and has set high hopes for both herself and Chittu. Chittu tries to show her reality in his own way. |
| 30 | Hindi Main Counting | Kittu is testing Chittu if he knows counting in Hindi. She is in for a shock. Would you like to find out why? |
Continue enjoying more funny jokes in Hindi for kids below
Kittu Aur Chittu: Best Funny Jokes In Hindi (Contd.)
Serial No.
Episode Name
 Episode Description
31
500 ka 50-50
Kittu and Chittu have found some 500 rupees and are thinking what to do with them?
32
Sun Par Lecture
Chittu is so excited that tomorrow their class teacher is going give a lecture on sun. But that worries Kittu a lot. Let's find out why?
33
Kho Gaya Tha
Kittu is concerned why Chittu couldnt make it to playground yesterday and Chittu explains his problem. 
34
Mom's Sacrifice
Kittu and Chittu are discussing their mother's and how they have made such huge sacrifices to look after the kids.
35
Cookies 
Kittu is a bit upset today as she and her mom have hosted some guests at their house and they have spoiled Kittu's plans.
36
Passing Marks
Kittu and Chittu are worried as one of their friends is crying after the final marks are announced. But should she be worrying really?
37
Cow and Grass
Kittu and Chittu had some homework given by their teacher but Chittu seems to have some problem with his final work. Shall we try to find out what happened?
38
Lost Phone
Kittu's mom's phone got lost and our loveable kids Kittu and Chittu are worried. Then Kittu reveals the story behind this mystery.
39
Moustache
Chittu had a great incident to tell when his father went to the barber after the lockdown.
40
Landline vs Mobile
Let's join our loveable kids Kittu and Chittu as they discuss the difference between a landline and mobile phone.
41
I am Going

Kittu is struggling to understand the translation of "I am going" and seeks Chittu's help. Let's find out what happens next?

For more Kittu & Chittu jokes, tune into Chimes Radio – India's 1st Audio Platform for Kids. Available for free on iOS and Android apps.

42
Chawal Se Barf
Kittu has a new magic up her sleeve and is wondering if Chittu can do the same? Let's find out the secret behind Kittu's magic.
43
Milk
Chittu is upset that his mummy asks him to drink milk daily. When Kitty explains it helps to grow, Chittu has his own reasons to not to believe it.
44
Neighbour Aunty
Chittu is very happy today that the aunty in their neighbourhood talked to her today. And Kitty wants to know the reason. Let's find out what actually happened there?
45
Train Ride
Kittu had fun time sitting on the window seat in a train. Chittu tells her that his mom never allows him to do so and then Kittu tells him her secret. Enjoy this funny kids podcast to find out all about it.
46
Math Exam Main Fail
Chittu has flunked his math's exam but is casual about it. Kittu is confused if Chittu's father was upset about his results or not. Are you? Let's find out the details is this kid's special jokes podcast.
47
Dog Par Essay
Chittu is suspicious about the essay Kittu had written on her dog and wants to know the truth behind it. Do you?
48
Maths Ka Homework
Kittu is working hard on her maths homework while sitting on the floor and Chittu gets curious about it.
49
Samosa
Kittu is eating samosas in a very peculiar way. Chittu wants to know the reason behind it and is amazed to hear her reason.
50
Water Ka Formula
Kittu is quizzing Chittu on water's chemical formula and Chittu is being his usual self. Let's enjoy this fabulous kids' joke.
51
Sabse Purana Animal
Kittu has a very interesting question for Chittu and Chittu answers it using a very simple yet effective logic.
52
Result Aane Wala Hai
As soon as Kittu informs Chittu that results are to be announced tomorrow, he gets worried and tells Kittu that he will have a lot of work to do tonight. But we are wondering what can that be? 
53
Enegery Wala Chapter
Chittu wants to know the definition of energy from Kittu but she only knows a part of the answer to this question.
54
Sher Aaya To
Kittu is trying to test Chittu on his wittiness and ask him what will he do is a tiger comes after him. What do you think he will say?
55
ABCD Sunao
Kittu is checking Chittu if he knows his ABCD. What do you think? Does he?
56
Lohe Se Paani
Chittu is impressed with his father's word of wisdom but Kittu, never to be let back, goes one up over him.
57
Paani Le Aao
Kittu is at Chittu's place to study. Suddenly Chittu starts to feel thirsty and asks Kittu's help. Let's find out what happens next.
58
Daadi Ko Gift
Kittu's grandmother's birthday is coming and she has thought of a perfect gift for her. Chittu is curious to know why she selected what she did.
59
Kuch Thanda Hai Kya
Chittu is over to Kittu's place. Trying to be a nice host, Kittu asks if Chittu would like to have something? Shall we find out how does that conversation went?
60
5 Aam
Kittu has a tricky mathematics question for Chittu related to mangoes. Would you like to hear what was the question and what was Chittu's answer?
Continue enjoying more funny jokes in Hindi for kids below
Kittu Aur Chittu: Best Funny Jokes In Hindi (Contd.)
| | | |
| --- | --- | --- |
| Serial No. | Episode Title | Episode Description |
| 61 | Answer Hai 55 | Kittu and Chittu are writing an exam and Kittu is trying to help Chittu with an answer. Shall we find out how does that go? |
| 62 | Birbal Ka Janam | Chittu is showing off his history knowledge but Kittu as usual has a witty answer up her sleeve. |
| 63 | Poori Dukaan | Kittu has heard from her grandmother that in her times, one could buy the whole shop for 10 rupees but that's not possible anymore. Chittu agrees with her but his reasons are slightly different. |
| 64 | Jeb Garam | Kittu hasn't been very nice to an uncle who visited her place yesterday and Chittu wants to know why? |
| 65 | Yuddh | Kittu is wondering if Chittu has ever seen a battle (yuddh) in his life and he has a very cute answer to the question. |
| 66 | Double Decker Bus | Both Kittu and Chittu get very excited to see the double decker bus. But soon, things change. Do you want to know why? |
| 67 | Yuddh Dekha Hai | Kittu wants to know if Chittu has ever seen a battle (yuddh). He says he has but is unable to share the details. Do you want to know why? |
| 68 | Third World War | Kittu and Chittu are discussing what will happen if the third world war breaks out. Do you know what their conclusion was? |
| 69 | Mehnat Ka Fal | Chittu's mother has told him that result of hard work is always sweet. But Kittu doesn't agree. Do you want to know why? |
| 70 | Aadhar Link | Kittu checks Chittu's scorecard and is surprised to see he has score only half of what he is claiming. He has his own logic to explain the anomaly. |
| 71 | Doctor Se Puchchna Hai | Kittu and Chittu are passing close to a doctor's clinic. And Chittu has a very important question that he wants to ask the doctor. Would you like to know what is that? |
| 72 | 300 Kgs Kitne Hue | Chittu has an interesting maths question for Kittu. He wants to know what we should call 300 Kgs. Do you want to know the answer? Listen on. |
| 73 | Doctors Aur Students Main Similarity | Chittu is curious to know if doctors and students have any similarities. And we think Kittu has a perfect answer. |
| 74 | Pen Aur Pencil | Kittu is surprised that Chittu has brought a pen to school when madam has categorically asked them to use pencils. Chittu has his own reasons. Do you want to know what? |
| 75 | Mummy Ka Birthday Gift | It was Kittu's mummy's birthday and Chittu wants to know if she got any birthday gift and what happened after that? |
| 76 | Paros Ke Bachche Ka Naam | Chittu is curious to know the name of Kittu's neighbor's son. When Kittu tells him and the reason why he was named so by his parents, he is thankful that the kid was not born on another festival day. |
| 77 | History 1869 | Chittu is testing Kittu's general knowledge and asks her what happened in 1869. She is quite prompt to answer that one. Then Chittu asks her next question to which she has a great answer. |
Kittu Aur Chittu: Best Funny Jokes In Hindi (Contd.)
| | | |
| --- | --- | --- |
| Serial No. | Episode Title | Episode Description |
| 78 | Fast Faster | Kittu wants to test Chittu's Hindi skills and ask him to explain some basic English words in Hindi. Do you want to check Chittu's answers? |
| 79 | Sidha Ghar | Kittu has come to know that Chittu is not going back straight to his house after school and advises him to do so. Chittu being Chittu, has his own arguments. |
| 80 | Ball Neche Kyun | Chittu is testing Kittu's science knowldege and asks him a very difficult question. Kittu has, as usual, a very clever answer for him. |
| 81 | Mini max | Chittu is testing Kittu's knowledge of relations. He poses a tricky question but Kittu has an apt answer for his questions.. |
Read about our other popular kids' podcasts using the links below: