When is Eid al Adha 2023: Date & Significance Of This Festival
Celebrate the festival of Eid al Adha this year with Chimes. Check here to know when is Eid al Adha 2023 and how do Muslims celebrate this festival.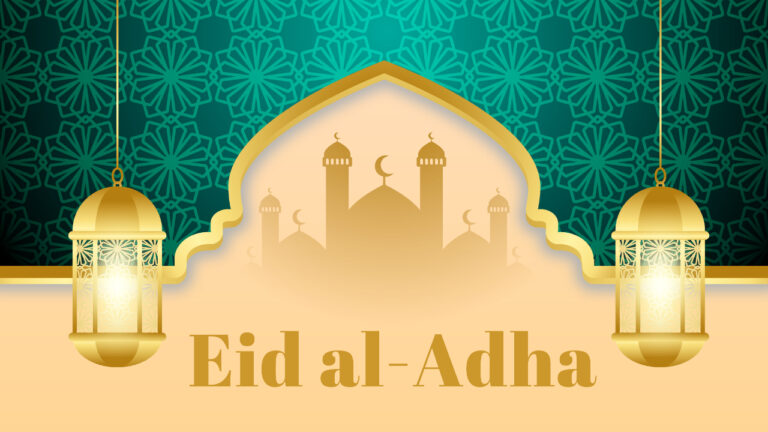 Eid al Adha 2023 Special Podcast:
Eid al Adha or Bakrid is celebrated by the people of the Muslim community across the world every year. After Eid al-Fitr, the second most important Muslim festival is Eid al-Adha. The annual festival of Eid al-Adha, is also known as the Festival of Sacrifice.
When is Eid al Adha 2023?
Commonly called Bakrid, this festival is observed during the month of 'Dhu al-Hijjah,' the twelfth and final month of the Islamic calendar. The pilgrimage to Mecca, also known as "haj" comes to an end with Eid al Adha. The date of the event is determined by lunar sightings, therefore it may alter from country to country.
This year's Eid al Adha 2023 festival will run from Wednesday, June 28 through to Thursday, June 29. The public holiday of Eid ul Adha 2023 would take place on June 29. On Eid al Adha, banks, educational institutes, national, state, and local government offices, and post offices are closed.
Why is Eid al Adha celebrated?
The festival of Eid ul Adha is celebrated by Muslims all over the world to commemorate Prophet Ibrahim's (Abraham's) sacrifice, which he made after Allah's command as a believer in Him.
Muslims believe that God tested the Prophet by commanding him to sacrifice his firstborn son, Ismail (Ishmail). Ibrahim followed Allah's commands, and laid down his beloved son for sacrifice, but at the last moment Ismail  was replaced with a sheep. As a result, every year on the 10th of Dhul Hijjah, Muslims all over the world celebrate Eid ul Adha by sacrificing a lamb, sheep, goat, or camel to honor Prophet Ibrahim's sacrifice. 
The occasion of Eid al Adha or Eid ul Adha also marks the completion of Hajj, a five-day pilgrimage to Mecca that every able-bodied and monetarily sufficient Muslim  is required to complete once in their lifetime. The trip is thought to purify the soul of sins and establish a spirit of equality, sisterhood, and brotherhood.
What are the Practices, Traditions, and Observations of
Eid al Adha?
The Eid prayer must be said in open. It is divided into two Rakaah (units), the first of which has seven Takbirs and the second of which has five Takbirs.
The sacrifice of an animal is an essential part of Eid al Adha.  The ritual is a recreation of what Ibrahim performed, and it also demonstrates Muslims' devotion to God (Allah).
During Eid al Adha, men, women and children dress in their finest attire. Muslims families host a feast and distribute gifts to the needy. Children are also given presents in various Muslim cultures known as "Eidie" The day is observed as a national holiday in many countries.
What are the Popular Cuisines of Eid al Adha?
Eid ul Adha is also known as "Salty Eid", because of the great range of savory food served as the main meal. In the Middle East, these may include beef, mutton, or shish kebab, or popular rice dishes such as Biryani in Southeast Asia. Sweet pastries flavoured with pistachio, almond, or walnut are traditional treats. 
Eid ul Adha Around The World
All over the world, the festival of Bakrid or Eid ul Adha is known by different names as follows:
In Uzbekistan, it is celebrated as Qurbon Hayiti.
In Bangladesh, it is called Idul Azha.
In Bengal, it is called Kurbanir Id.
In Egypt, Eid al Adha is celebrated as Id ul Baqarah.
What is the difference between Eid al Adha and Eid al Fitr?
The two major religious festivals celebrated in Islam are Eid al Adha and Eid al Fitr.
In Arabic, Eid al-Fitr means "feast of the breaking of the fast," and it is observed to mark the end of the fasting month of Ramadan according to Islamic Calendar all over the world. Ramadan is  the ninth month of the Islamic calendar. It is also considered to be the  holy month in which Muslims fast for 29 to 30 days during daylight hours. The purpose of fasting and worshiping throughout this month is to get closer to Allah and show their compassion towards the needy.
Eid al Adha, the "Festival of Sacrifice"  falls on the same day as Hajj, the annual Islamic pilgrimage to Mecca. Muslims  celebrate Eid al Adha by performing a Qurbani, which means "sacrifice," to honor  prophet Ibrahim's sacrifice.
Precautionary Measures For Eid al Adha
Limit social gatherings
Maintain physical distance
Wear two masks
Wash your hands frequently
Use sanitizer
Get vaccinated