When is Navratri Festival 2022: Date, history, and everything you must know
Navratri Festival 2022: Navratri is a Hindu festival celebrated by the people of India. Check the date of Navratri 2021 and, all the other details you need to know.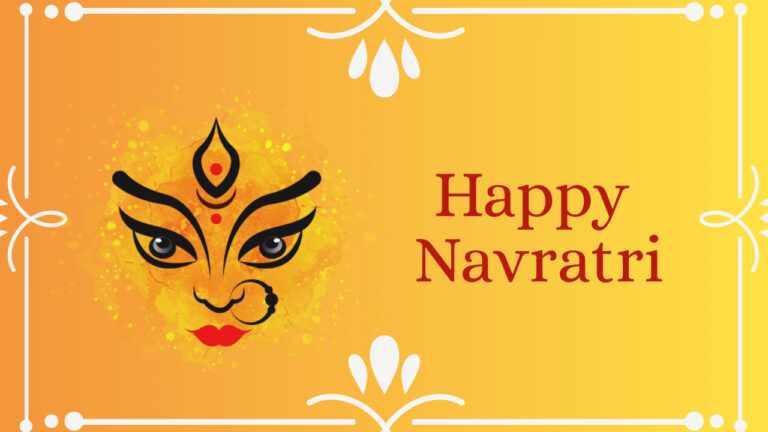 Time to Navratri Festival 2022
Navratri is a nine-night, ten-day Hindu celebration. Every year in the autumn season, it is widely observed in India. Navratri is observed four times a year: in Magha (winter), Chaitra (spring), Ashadha (monsoon), and Sharad (autumn).
According to the Gregorian calendar, the Sharad Navratri falls in September/October. The most widely observed festival in honor of the holy feminine Devi Durga is Sharada Navaratri.
The Navratri festival 2022 starts on 26th September, Monday and ends on 4th October, Tuesday.
About Navratri Festival 2022
One of the most important festivals in India is Navratri, commonly known as Durga Puja. It's a festival dedicated to the Divine Feminine. Dance, music, sweets, and devotion of the most powerful goddess accompany the celebration, which lasts nine days and nine nights. In each day of the celebration, one avatar of the Goddess Durga's are worshipped.
Kanya Puja, one of the festival's most iconic rituals. Nine young girls dressed as goddesses representing feminine strength participate in this ritual. They are worshipped by washing their feet and receiving food and clothing as offerings. In different parts of India, Navratri is observed in a distinct way.
Date of Navratri Festival 2022
The Navratri festival 2022 starts on Monday, 26 September and ends on Tuesday, 4 October.
Significance of Navratri Festival
The battle between goddess Durga and the demon Mahishasura is the most famous storey related with Navratri. Goddess Durga and the demon Mahishasura once fought each other. The Gods were unable to defeat Mahishasura when he attacked Trilok.
Lord Brahma, Lord Vishnu, and Lord Shiva joined forces to create Goddess Durga, who eventually destroyed Mahishasura. To perplex Goddess Durga, Mahishasura would assume many shapes. Goddess Durga finally defeated him with her trishul when he transformed into a buffalo. This day is referred to as "Mahalaya" by many people.
What are the Nine Forms of Devi Durga?
They are Goddess Shailputri , Goddess Brahmacharini , Goddess Chandraghanta ,Goddess Kushmanda, Goddess Skandamata , Goddess Katyayani , Goddess Kaalratri , Goddess Mahagauri and, Goddess Siddhidatri.
She is the personification of Brahma, Vishnu, and Mahesh's combined might. The first day's colour is red, which represents strength.
She is joyful and bestows happiness, tranquilly, wealth, and grace on all her worshippers. The second day's hue is royal blue, which is associated with a calm-yet-powerful spirit.
She is worshipped on the third day for peace, calm, and prosperity in life, and she represents beauty and grace. Yellow is the color of the day.
She is regarded as the universe's creator. She  made it lush with greenery with a burst of laughter. As a result, today's color is green.
Skanda, or Karthikeya, is her son.  The colour of the day is grey, which represents a mother's weakness. A mother can transform into a storm cloud when the need to defend her child.
Katyayani is an avatar of Durga, representing power and feminine. Hence, the color of the day is orange.
Her skin is dark, her hair is unkempt, and has a daring personality. She is the harshest incarnation of goddess Durga. She wears white, the symbol of peace and prayer. As a result, the day's color is white.
She is wise, quiet, and peaceful. Her colour was supposed to have changed from white to black due to her long deprivations in the deep Himalayan forests. Shiva cleansed her with the Ganga's waters, and her body was restored to its former glory. The color of the day is pink, which represents hope and a new beginning.
She possesses miraculous healing abilities.  The goddess is depicted in a joyful condition, similar to that of a clear day's sky. As a result, the color of the day is sky blue.
Navratri Festival Celebrations in India
Let us take a look at how the Navratri Festival is celebrated in different parts of India and see how diverse it is.
1. Navratri Festival Celebration in Northern India
In North India, Navratri commemorates Lord Rama's victory over the evil king Ravana. It ends with the Ramlila celebrations, which take place during Dussehra. The "Kanya Puja," which takes place on the eighth day, is another important ritual of this long festival.
2. Navratri Festival Celebration in Western India
Navratri is celebrated in Western India, mainly in Gujarat, with the famous Garba and Dandiya-Raas dances. Garba is a graceful style of dance in which women and men gracefully move in circles around a lamp-filled pot.
3. Navratri Festival Celebration in Eastern India
In West Bengal, India's north-eastern state, the last five days of Sharad Navratri are known as Durga Puja. Devi Durga is seen riding a lion and carrying numerous weapons. These five days of puja are for relaxing, spending time with family, and visiting several Durga puja pandals, each with its own theme and mood, as well as a beautiful and life-sized idol of the goddess Durga.
4. Navratri Festival Celebration in Southern India
In Karnataka, Navratri is known as Dasara. During the nine nights of Navratri, yakshagana, a night-long dance in the form of epic dramas from the puranas, is performed. The 'Mysore Dasara' is characterized by pomp and grandeur, portraying the triumph of good over evil. It is celebrated as the state festival of Mysore.
Special Foods for Navratri Festival
The regulations for fasting during Navratri festival differ by community, but the underlying principle is that the meal should be healthful and light. Kuttu atta, singhara atta, fresh vegetables, milk, yoghurt, and makhanas are among the preferred ingredients as people fast during these days. Unprocessed, rock salt, or sendha namak, is used instead of normal salt in the vrat food.
Check out the Navratri Vrat recipes that you can cook during this Navratri festival 2021.
Podcast on Navratri Festival 2022
FAQ'S on Navratri festival 2022