Krishna Janmashtami 2023: Date & Significance Of Janmashtami In India
Krishna Janmashtami is a grand Hindu festival celebrated all over India to mark the birth of Lord Krishna. Check here to know the date of Krishna Janmashtami 2023 and how it is celebrated.
The Hindu festival of Krishna Janmashtami is also known as Gokulashtami. It marks the birth of Krishna, Lord Vishnu's eighth avatar. Krishna Janmashtami will be held on Thursday, 7th September 2023. It is celebrated every year on the eighth day of the Krishna Paksha, of the Hindu month, Bhadrapada. The date of Shri Krishna Janmashtami changes every year. Krishna Janmashtami is observed in either August or September according to the Gregorian calendar. 
The story behind the festival Krishna Janmashtami
Krishna Janmashtami is celebrated on the eighth day because it is believed that Krishna is the eighth child of his birth mother, Devaki. Krishna was born in a time when evil was omnipresent.
According to Hindu mythology,  Krishna also known as Kanha was threatened by his malevolent uncle King Kansa. Following Krishna's birth in Mathura, his father Vasudeva Anakadundubhi carries him across the Yamuna to Nanda and Yashoda in Gokul. Krishna grew up in Gokul, eventually defeating his uncle Kansa.
How is Krishna Janmashtami celebrated?
Krishna Janmashtami's main celebration takes place at midnight because Lord Krishna was born in the darkness. At midnight, Krishna's statues are washed, clothed in beautiful attire, and then placed in a cot.
Krishna Janmashtami is celebrated across India with devotional music, after which followers break their fast with food and sweets. Women make little foot imprints outside their doorways as a metaphor for Krishna's entrance into their homes. The Janmashtami celebrations in Mathura and Vrindavan are particularly remarkable because Krishna lived his entire life there.
People place pots of butter and milk on poles in the streets on this day, and men would create human pyramids to reach and smash the pots. This is known as  Dahi Handi.  This foretells Krishna's childhood when he used to play with his friends and steal curds. Therefore he is also nicknamed "Makhanchor". 
The Bhagavata Purana and Bhagavad Gita are recited at major Krishna temples on this day. Rasa Lila or Krishna Lila is a dance-drama festival that is held in many places. Rasa Lila is a popular custom in the Mathura region,  in northeastern Indian regions like Manipur and Assam, as well as parts of Rajasthan and Gujarat.
Traditional Cuisines Cooked on Lord Krishna's Birthday
The traditional dishes cooked during Krishna Janmashtami are Panjiri, Kheer, Makhan Mishri, Gopalkala, Panchamrit, Rava Laddoo, Sabudana Khichdi, and Gulab Jamun. The most important dishes of all are Seedai, Sweet Seedai, Verkadalai Urundai.
Enjoy making some vrat recipes for your family today!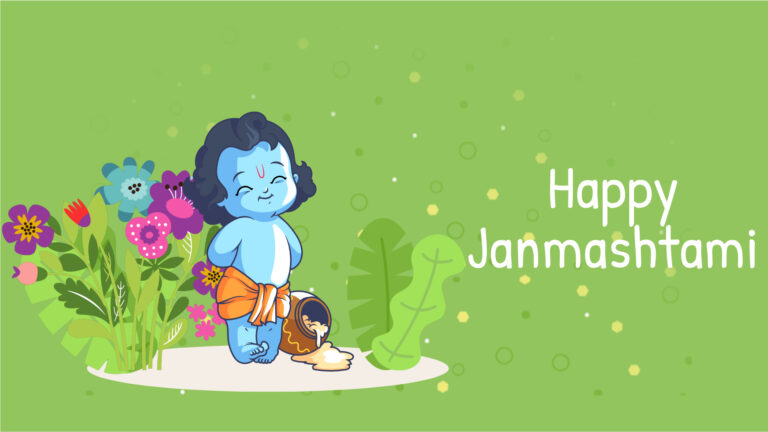 Happy Janmashtami Around The World
Krishna Janmashtami is celebrated all around the world with much pomp and zeal.  Different states of India and also different countries in the world observe different ways of celebrating this festival.
Janmashtami, also known as "Gokulashtami." is celebrated every year in August. The festival of Dahi Handi is celebrated the day after Krishna Janmashtami. People break the Dahi Handi, an "earthen pot of yogurt," on this day.
The mythology states that baby Krishna would steal yogurt and butter, and people would store their milk products high up out of Krishna's grasp. Krishna would come up with all sorts of innovative ways to smash these high-hanging pots, such as forming human pyramids with his friends.
As a result, the notion of Dahi Handi was born, in which the spilled contents are termed Prasada.
People in Gujarat celebrate the event with a Makhan Handi ritual, which is similar to Dahi Handi. Others go to temples to perform folk dances, sing bhajans, and visit Krishna temples.
Janmashtami is the largest festival in north India.  The Raslila tradition is celebrated on this day. Kite flying is another event that takes place on the Krishna Janmashtami in Jammu.
Eastern and Northeastern India
Manipur's people perform the love-inspired dance drama arts of Radha-Krishna known as Raslila on Janmashtami. Parents dress up their children as characters from Krishna's stories, such as gopis and Krishna, they recite the tenth chapter of the Bhagavata Purana and the Bhagavata Gita or listen to them. 
The festival is also known as Sri Krishna Odisha. Janmashtami is observed by fasting and worship until midnight. The 10th chapter of the Bhagavata Purana, which is dedicated to Krishna's life, is recited. The next day is "Nanda Utsav," to celebrate Nanda and Yashoda's, Krishna's foster parents. 
South India celebrates Gokula Ashtami with great zeal. In Tamil Nadu, floors are decorated with Kolam, and devotional songs are performed in Krishna's honor. Then they draw Krishna's footsteps from the entrance to the pooja room, symbolizing Krishna's entrance into the house. Fruits, betel, and butter are some of the offerings presented given to Krishna.
Krishna Janmashtami Outside India
Nepal– They celebrate Janmashtami by fasting until midnight and singing religious music while reciting the Bhagavad Gita
Bangladesh– Janmashtami is a national holiday in Bangladesh. On this day, several processions are held
Fiji– Janmashtami is known in Fiji as "Krishna Ashtami." Hindus assemble with their 'mandalis' at homes and temples during these eight days
Singapore– To honor this auspicious day, the local temple hosts cultural events. The "Krishna chanting competition" is a distinctive element of this event
USA– The festival in the United States is a magnificent occasion that begins early in the morning. Hare Krishna troupes and their followers put on colorful celebrations and cultural programs
When is Janmashtami 2023 in India?
Krishna Janmashtami 2023 will be celebrated on Thursday, 7th September 2023. Krishna Janmashtami is a gazetted holiday in Bihar, Chandigarh, Chattisgarh, Delhi, Gujarat, Haryana, Jharkhand, Mizoram, Madhya Pradesh, Nagaland, Orissa, and many other states of India.
Podcast on Krishna Janmashtami
Let your life be filled with love and laughter with Lord Krishna's blessings. Happy Janmashtami!
May Lord Krishna always be with you and protect you and your loved ones." Happy Krishna Janmashtami!
May lord Krishna bless you with values and show you the right path on this auspicious occasion of Janmashtami!
Lord Krishna will give you the courage to fight with hardships in life. Happy Janmashtami!
Krishna Janmashtami Video
FAQ's Krishna Janmashtami