A collection of moral stories for kids in Hindi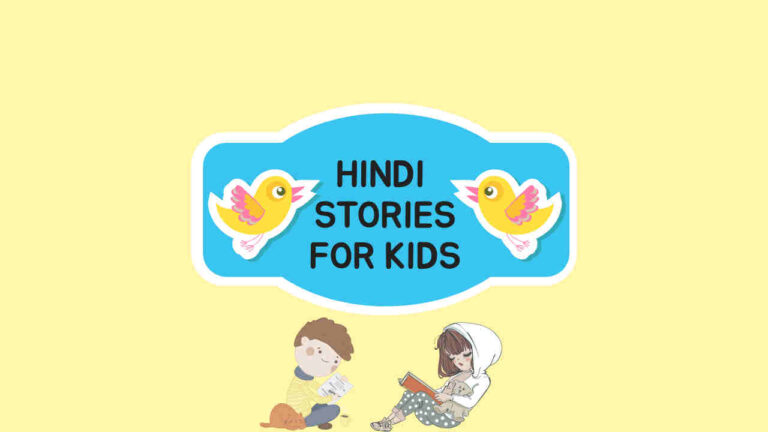 Stories play a very important part in a child's life. Often stories are one of the first things we narrate to our kids in order to help inculcate the values like morality, honesty, and compassion for others. Besides this, stories also help kids develop their creativity and push the boundaries of their imagination by visualizing things, events, characters in their own minds.  
From the likes of Sage Valmiki, who penned down the entire story of Lord Rama, Pandit Vishnu Sharma, who wrote the classic Panchatantra Stories, there have been a great many texts and stories provided to the world by India and translated to innumerable languages across the globe.
We at Chimes Radio, have compiled and brought to you a great collection of Hindi Kahaniya For Kids  in the audio format. These Hindi Kahani for kids podcasts can be enjoyed as a family at your home or on the move. Ranging from classic tales like Panchatantra stories to more fun stories like Akbar Birbal Moral stories, Vikram Betal Moral stories, Tenali Rama Stories, to the Indian Folk Stories from different parts of our country, and lastly with  Hindi Varnmala Ki Kahaniyaan, we have got a story podcast to pique the interest of each and every listener. 
We hope you enjoy our podcast collection of Hindi Kahaniya with morals for kids and we will continue to bring more engaging and interesting Hindi stories for kids.
Emperor Akbar was probably the most famous Mughal emperor to ever rule India and Birbal was the cleverest courtier in his team – and one of the Akbar's famous Nine Gems. Each of the Akbar Birbal Hindi Story narrates an interesting incident from the lives of these two greats while teaching us an important moral lesson. Enjoy this great collection of moral stories in Hindi for kids in podcast format on the Chimes Radio app or on your favorite audio streaming service.
These are wise old Hindi moral stories for kids, also popularly known as 'Panchatantra ki Kahaniyan'. As the legend has it, these Panchatantra stories were narrated by a great scholar Pandit Vishnu Sharma to impart great wisdom to three princesses of his era. Since then these have been passed on from one generation to another and have been translated from their original Sanskrit language as back as from 6th century. These animal fables, make up for great bedtime stories for kids, especially when narrated in grandmother's voice. Enjoy all Hindi Kahaniya For Kids!
Traditional Indian folk stories collection in Hindi from various part of the country serves a lot greater need other than just simply engaging or entertaining listeners. These Hindi folk stories introduce the audience to the value system of Southern India, the reason behind the local rituals of the North East, and a quick peep into religious practices of the North. Listen to some popular and intriguing  Hindi Kahaniya For Kids and Moral stories in hindi for kids.
Vikram Betal is an ancient Indian story collection of a king and a ghost. According to folklore, the King of Ujjain, Vikramaditya or Vikram, is said to have promised to bring a ghost named Betal to a sage to help him complete his prayers.
Following Vikram's encounter with Betal, the ghost agrees to accompany him on one condition. During the journey, Betal will tell King Vikram a story and will ask him a question in the end. If Vikram gave the right answer, then Betal will fly back to his tree.  And thus began the journey of Vikram and Betal. Enjoy this intriguing Kahani in Hindi.
The first thing that kids are taught while starting on the journey to learn Hindi, one of the oldest and widely spoken languages in the world. Thus, in order to make this learning process easy and to help you quickly build your vocabulary in Hindi, we have created "Hindi Varnamala Ki Kahaniyan" podcast.
This is a collection of stories where each episode focuses on one of the Hindi Varns and a beautiful story is weaved around that. By the end of the story, audience would have learned several words starting with that Hindi Varna.  Who is excited to learn varnas through stories in Hindi? Enjoy all  Hindi Kahaniya For Kids completely free.
Tenali Ramakrishna  or Tenali Rama was a poet and King Krishnadevaraya's advisor. He was well-known for his incredible wit, comedy, and intelligence. He was one of the Ashtadiggajas, or the eight poets, of the Vijayanagar ruler Krishnadevaraya's court.
Tenali Raman stories all focus on his relationship with the king, as well as his intelligence and problem-solving ability. Tenali Rama stories or tales make excellent bedtime choices for children. These Tenali Raman stories in Hindi would be a hit with your children if they like stories about handling moral problems and will have you laughing out loud while also making you appreciate his talent.
Learn how Tenali Raman obtained the ability to make people laugh, and how he used that ability to serve King Krishnadevaraya. Enjoy this intriguing Hindi Kahaniya for kids now!
The Jataka Tales for kids, or the Jatak Katha are a compilation of stories concerning the former incarnations of Lord Buddha in both animal and human form. Gautam Buddha delivered his teachings in the form of stories. These Jatak Kathas are primarily intended to instill the ideals of self-sacrifice, honesty and morality in common people.
Animals, especially elephants played a very important role in his stories. These children loved stories were so powerful that they became part of Indian folklore with time. The podcast, 'Jatak Katha' delivers these traditional moral stories by Gautam Buddha to everyone in a simple but engaging way.