Share this mythological story about Navtratri festival
Story on Navratri Festival
Most of the festivals that are celebrated in India lasts for one or two days but the one we are going to talk about in this great mythological story for kids podcast lasts for full nine days. The festival season in India had begun, so can you guess which festival is it? The festival of nine days and nine nights accompanied by dance, music, sweets and worship of the most powerful goddess. It is Navratri.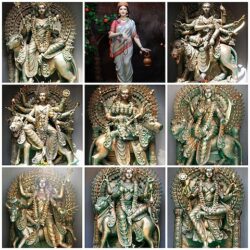 Image credit- Wikipedia
Navratri is a Hindu holiday that lasts nine nights and is observed in various parts of India in diverse ways. The most widely recognized festival dedicated to the holy feminine Devi Durga is Navaratri.
The nine nights festival that has worship, dandiya, drums and lots of food. It is celebrated all over India in different ways. Let's learn about Mythological Stories For Kids. 
In Tamil Nadu & Karnataka: In Tamil Nadu & Karnataka, all nine days people have doll displays, known as Gombe Habba (Kannada) and Bomma Koluvu (Telugu). Colorful dolls made of clay are dressed beautifully and then displayed at homes. These dolls are mostly depicting stories from Puranas, Indian Mythology, Epics, Histories or even Contemporary Events like Cricket, Activities, etc. Karnataka has its world famous Dussehra procession with idol of goddess Chamundeshwari carried on elephants. This was started by Kings of Mysore long ago.
In Kolkata: In Kolkata, huge pandals with beautiful idols of Durga Ma are installed. Worshippers dance whole night singing hymns for the Goddess Durga all this time.
In Gujarat & Maharashtra: In Gujarat & Maharashtra, devis are given the form of a 'kalash' or an auspicious pot. Then the people worship it with dance, music and various chants. This beautiful tradition goes on for 9 days and nights. The 10th day is celebrated as Dussehra or Vijay Dasami, the day on which the good wins over the evil. Dussehra was the day  as per Indian epic Ramayana when Lora Rama killed Ravana. Many states organize magnificent events to celebrate this victory, also called as "Raavan Dehaan". 
In some places they also enact the life of Lord Rama in the form of Ram-Leela, depicting the story where good defeated the evil. 
Navratri is all about to celebrate the different forms of this great diety/goddess. The forms are Maha Kali, Maha Laksmi, Maha Saraswati. A brutal demon called Mahisasura threatened the world with attacks on people and on devas. He took over Indralok and chased the other Gods away.