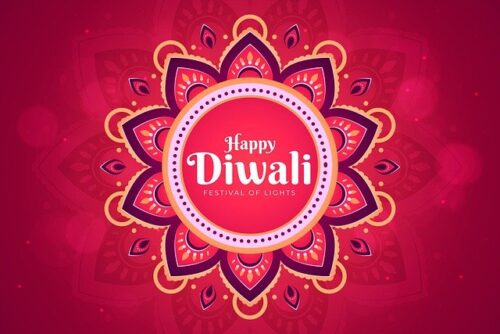 Diwali is undoubtedly one of the biggest festivals in India. Across the country, it has different names like Deepawali, Dipawali, Laxmi Pujan or Diwali. Diwali gets its name from the word "deep" meaning light and "avail" meaning row. Joined together, it means a row of lighted lamps and this is exactly how most of the people celebrate this day. No wonders,  Diwali is also known as the festival of lights where light represents the victory of good over evil.
On this day, people light up their houses with candles and earthen lamps (diyas), pay their obedience to the gods and goddesses, and have lots of fun. Diwali is a time for buying and exchanging gifts, sweets, dried fruits and other presents with your near and dear ones. Diwali, traditionally, is also a time to redecorate homes, buy new clothes and be thankful to god for whatever you have in your life. 
In a diverse country like India, every festival has a reason and story as to why people celebrate it and Diwali is no different. It is widely celebrated across many religions – mainly Hindus, Jain and Sikhs, though this is one such occasion where people of all religions and states come together and have a great time. But if we talk about the religious significance of this festival, then we have to go back eons to understand how it started in the first place. 
As per Hindu mythology, Diwali was the day when Lord Ram returned back to his home Ayodhya with his wife Sita and brother Lakshman after defeating the demon king Ravana. To celebrate the return of their much loved and venerated king Ram after an exile of 14 years, people of Ayodhya lit lamps and candles all over the city and danced all night through. 
As per Jain scriptures, Diwali is considered to be the day when the last of the Jain Tirthankaras, Lord Mahavira, attained nirvana – complete knowledge and enlightenment. Thus this day marks the anniversary of this auspicious occasion and the final release of Lord Mahavira's soul. 
Sikhs refer to Diwali as 'Bandi Chhor Diwas' as this was the day when their sixth guru, Guru Hargobind Singh, was released by Mughal emperor Jahangir from Gwalior along with 52 other princes and they returned back to the Golden Temple in Amritsar. So people of Amritsar had lit up the entire city with lights and candles and this tradition has continue since then.  
Similar, Southern India celebrates Diwali as the day when Lord Krishna defeated the demon Narakasura while Western India venerates the day as the one on which Lord Vishnu had sent the demon King Bali to rule the nether world.
Diwali generally falls on the no-moon night between the month of October and November. Traditionally it used to go on for five long days. The darkest night centers the Diwali night, the new moon night- the end of the month of Ashvin and the start of the month of Kartika.
THE 5 DAYS OF DIWALI: DIWALI 2021
How To Celebrate Diwali 2021 With Kids
Clean up the house: This year is all about extra cleaning and sanitization. Make sure, your house is clean and sanitized
Decorate the house & order gifts: It is definitely not safe to go out and shop like other years but you can order all the items you want online and even send gifts to your family members and loved ones. If you don't do it already, try to make some rangoli decorations as a family and don't forget to share your rangoli pictures with your loved ones. We at Chimes Radio will also love to see them if you want to tag us on Facebook (@chimesradio) or Instagram (@vrchimesradio).
Make delicious homemade sweets: From ladoos to barfi, to shakes and smoothies, make all the delicious desserts and meals at home. Chimes Radio also has some great flameless cooking recipe ideas that you can try with your kids here.
Watch virtual events:

We know how Diwali is meant to be a festival of fun, enjoyment, and meeting friends and relatives. But sadly this year is all about maintaining social distancing and avoiding the crowd. So, you can still enjoy Diwali by staying home and watching virtual events or shows. Or you can host some virtual parties with your loved ones this diwali using one of those social gathering apps.

 
Light up diyas: As the sun sets, make sure you are ready with your earthen lamps. In modern world, lot of people like to put on decorative lights, but nothing beats the fun and charm of putting the lamps and candles in your balconies. But very small children should only be observing as adults and other children do this activity with proper safety precautions. 
Avoid fireworks:

We have been reading for years about how firecrackers increase the amount of carbon monoxide in the air, leading to severe pollution all over India. To avoid these causing further issues for the health of fragile and elderlies, especially in the time of the pandemic, we all should follow the "No- fireworks" rule and have an eco-friendly and green Diwali with our families. 

Spend time with family: Do all the cleaning, cooking, decorating together with your family, and have an ample amount of fun in all the little things. Play some classic board games like Snakes and Ladders, Ludo, Monopoly or all-time favorite game Carromboard on this auspicious occasion.